About YUHDAK
Founding in April 1986, YUHDAK is an exceptional vertical injection molding machine manufacturer and has a mission to establish a competitive edge for its clients through comprehensive vertical injection solutions and develop sales all over the world.
Exceptional Quality Built Upon the Latest Technology for Machinery
Vertical Injection Molding Machine Manufacturer
As a business manufacturer that specializes in the technology for vertical injection molding machines, YUHDAK Machinery Co., Ltd., has integrated automation and labor-saving measures into its business operations and has seen steady growth since its founding in April 1986. In enhancing our comprehensive rubber injection services, we have established branches and plants in both Taiwan and China, providing automatic vertical injection machinery which incorporates features matching current market trends (i.e. High precision, high quality, ease of maintenance, ease of operation as well as energy efficient and environmental friendliness) to more than 50 countries and regions across the globe.
We provide various vertical injection molding machines, including vertical clamping vertical injection machine series, multiple embedded rotary injection molding machine series, vertical clamping horizontal injection tie-barless machine series, vertical clamping tie-barless machine series, high-speed precision machine series, vertical clamping horizontal injection four columns machine series, vertical clamping vertical injection two colors four columns machine series, etc.
We also provide machinery for specific production applications, including wire/plug machines, automobile weatherstrip machines, rubber machines, silicon machines, automobile window glass edging machines, BMC/bakelite machines, passive component (induction) machines as well as machines for soles, zippers, flosses, IC, etc.
Our products are used across numerous industrial applications such as automobiles, medicine, electronics, aerospace, handheld hardware, etc. The unrivaled services we proffer generate value for our clients.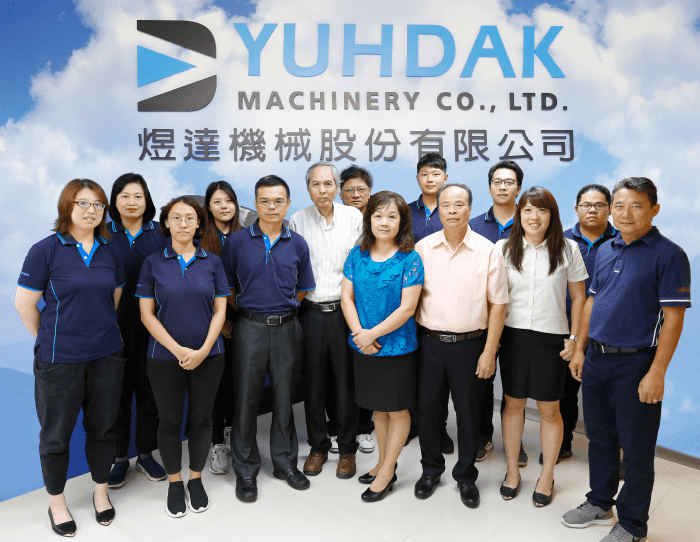 Why YUHDAK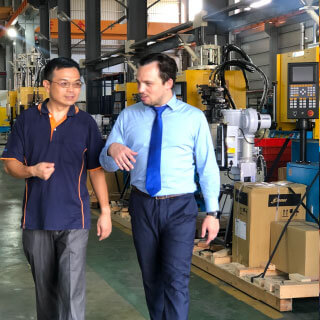 Surpassing Clients' Needs
Research and development (R&D) has always been YUHDAK's key strength. Since its establishment, YUHDAK pursued comprehensive solutions. As long as clients are willing to undergo change, YUHDAK is willing to pour time and effort into developing tailored, one-of-a-kind solutions with vertical injection molding machines that satisfy or even surpass the needs of our clients, allowing for steady growth sales and an equipment repurchase rate of over 90%.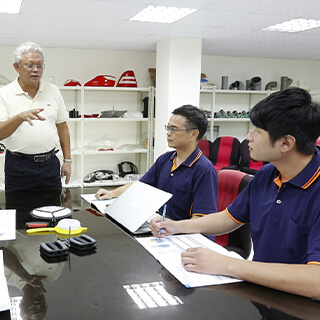 Sure and Steady
YUHDAK steadfast approach has stabilized its position as a paramount brand on the market. Equipped with key technology for vertical injection molding machines and knowledge of special material properties, YUHDAK's team of professionals is able to win the trust of its clients and become reliable partners in the industry.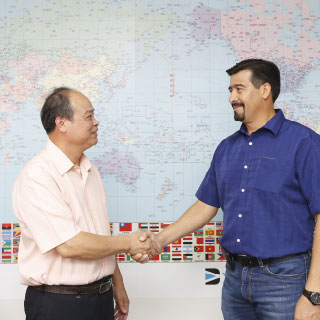 Achieving Win-Win
We value our relationships with clients and actively invite clients in the joint pursuit of sustainable operations. We give it our all for every collaboration opportunity and display the highest level of expertise for vertical injection molding machines throughout every step of the process. YUHDAK embraces feedback from clients with sincerity and therefore can achieve a win-win for ourselves and our clients.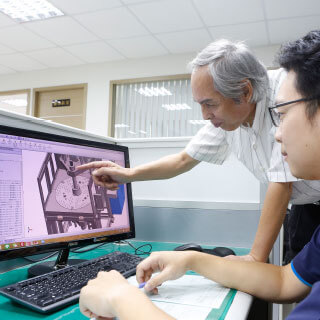 Technology Integration
YUHDAK integrates industry chains and technological resources at home and abroad, thereby connecting the production capacities of HQ in Taiwan and those of branches in China. It is one of three major vertical injection molding machinery brands in Taiwan.
Solution
Comprehensive Vertical Injection Solutions and Plant-Wide Plans for Integrated Injection Systems
Do you need more information? Still have questions or need to call back?